What's Ester?
Ester is a project supported by the European Commission aimed at transferring the success factors from the Israeli experience in high-tech start-ups to three countries of Eastern Europe: Latvia, Estonia and the Slovak Republic for the creation of suitable venture capital sources.
---
Objectives
1. Planning for effective sources of seed and venture capital in Estonia, Latvia and the Slovak Republic;
2. Submission of formal proposals for the launch of new programmes to the relevant authorities in the three countries and the EC.
---
Results summary
In LATVIA
1. The risk capital scheme designed and promoted by ESTER has now become operational;
2. As a result of this scheme, three early-stage funds, have been established with a total budget of €31.1 million (approximately half of which has come from private sources). The funds have been operational since mid 2006;
3. The risk capital scheme will be followed by a similar scheme for the period 2007-2013, with a budget of €30 million;
4. A full plan for technology incubators in Latvia was already accepted and inserted into the 2007-2013 plan for Latvian Structural funds, with a total budget of €23 million. The experiences of Israeli technology incubator schemes was used to design Latvia's scheme;
5. A technology transfer scheme for technical universities was accepted and inserted into the Latvian 2007-2013 plan with a total budget of €8 million. The scheme is based on the experience of the Weizmann Institute of Israel, and specifically adapted for Latvia's circumstances.
In ESTONIA
1. The approval of a national fund was finalized, which includes the fund of funds concept promoted by ESTER;
2. ESTER has also promoted an early stage master plan that was presented to all relevant policy makers.
In SLOVAKIA
1. ESTER has obtained political consensus on government support for Venture Capital schemes. It has mobilized some €100 million of public sources by convincing politicians to make that money available for VC in the period 2007-2013;
2. ESTER was also instrumental in preparing and educating public servants at NADSME for the JEREMIE project. Indeed, Slovakia was the first country in Europe to sign a contract with JEREMIE.
---
---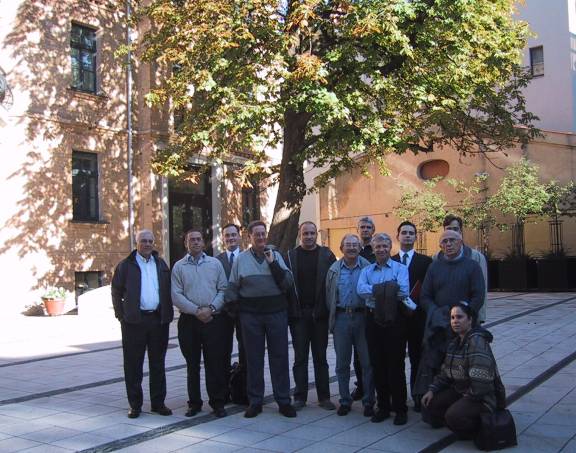 The ESTER team (almost complete) enjoying the Bergs compound in Riga. From left: Yigal Erlich, Vittorio Modena, Viesturs Sosars, Morris Teubal, Roman Linczenyi, Karol Stranai, Juraj Poledna, Stefan Vratny, Viesturs Veckalns , Kaspars Skalbergs (in the background), Arie Sadovski and Leora Rothschild-Shakked
Web design by Elena Vecchia - University of Pavia