Università degli Studi di Pavia
Centro Interdisciplinare di Bioacustica e Ricerche Ambientali

Via Taramelli 24 - 27100 Pavia - Italy
e-mail : cibra@unipv.it

---
News...
2014
Convegno internazionale "Ecology and acoustics: emergent properties from community to landscape"
Parigi, 16-18 giugno. Il Dr G.Pavan illustra il progetto SABIOD-Italy.


SABIOD - Scaled Acoustic BIODiversity platform

Il progetto nasce dalla convergenza degli interessi propri della bioacustica e dell'ecologia acustica con la necessità di sviluppare algoritmi di analisi capaci di estrarre informazioni da grandi moli di dati acustici. Finanziato dall'Università di Tolone e dal CNRS, prevede l'installazione di una serie di registratori acustici autonomi in ambienti naturali caratteristici con l'obiettivo di raccogliere registrazioni acustiche ambientali di lunga durata. I dispositivi utilizzati sono in parte commerciali e in parte sviluppati nei laboratori del CIBRA con la collaborazione di Dodotronic. L'obiettivo è duplice, documentare e descrivere i paesaggi sonori di specifici habitat e verificare i risultati degli algoritmi di classificazione automatica in corso di sviluppo in vari laboratori.

Le prime tre installazioni di registratori autonomi Wildlife Acoustics SM3 sono nella Riserva Naturale Integrale di Sassofratino gestita dal CFS, sull'Altopiano del Cansiglio e sulle Dolomiti Bellunesi. I registratori sono programmati per registrare 10 minuti allo scadere di ogni mezz'ora per 3 mesi.

http://sabiod.univ-tln.fr
http://www.unipv.it/cibra/res_soundscapes_uk.html


2013

---
February
Da fine dicembre si stanno registrando spiaggiamenti di stenelle in numero anomalo rispetto al passatto su tutta la costa Tirrenica, dalla Toscana alla Sicilia. Le regioni più colpite sono Toscana e Lazio. Il fenomeno è seguito dal Ministero dell'Ambiente e dal Ministereo della Salute. Il compito della BDS è di raccogliere tutti i dati che pervengono da fonti diverse, validarle e renderle disponibili online su http:\\mammiferimarini.unipv.it

January, 12th
Il 12 gennaio 2012 si è organizzato un incontro informale presso il CIBRA di un gruppo di bioacustici con l'intento di attivare iniziative tese a creare un network italiano di bioacustici che consenta di valorizzarne le esperienze professionali, accademiche e amatoriali. Si è parlato non solo di classica ricerca bioacustica finalizzata alla descrizione del comportamento comunicativo delle varie specie, ma si sono anche presi in considerazione i nuovi temi dell'ecologia acustica, dallo studio della biodiversità acustica allo studio del paesaggio sonoro con le sue molteplici potenzialità scientifiche, didattiche e divulgative. Un breve resoconto è pubblicato sul blog di ENTOMON.
La nuova rete, per ora informale, si caratterizza per interdisciplinarità e trasversalità. Il primo obittivo che ci si pone è un censimento di tutte le esperienze rilevanti nella bioacustica delle terre emerse, quale che ne sia il contesto, a patto che esse siano condotte in modo organico e con rispetto dei metodi scientifici.

A questo scopo, è stato predisposto un sondaggio online di cui è apprezzata la compilazione da parte di tutti coloro che si stanno dedicando con continuità alla registrazione, all'ascolto e allo studio dei suoni in natura.

2012
December

New publications:



Pavan G., 2012. Paesaggi sonori terrestri e marini. In: "Filogenesi e ontogenesi della musica", a cura di Avanzini G., Longo T., Majno M., Malavasi S., Martinelli D., pp 45-54. Franco Angeli Editore. ISBN 978-88-204-1130-5.

Pavan G., 2012. Paesaggi sonori e ricerca bioacustica. Picus, 38 (1): 62-63. ISSN 0394-2937.

Polidori C., Ruffato G., Borruso L., Settanni C., Pavan G., 2012. Stridulatory organ and distress call in males and females of a small velvet ant (Hymenoptera: Mutillidae). Bioacoustics. DOI:10.1080/09524622.2012.736241

Riccobene G., Ameli F., Bellotti G., Favali P., Pavan G., Simeone F., Viola S., 2012. Il Progetto SMO: Submarine Multidisciplinary Observatory. Atti 39° Convegno AIA, Roma: 6pp.

Pavan G., Pavan G., 2012. Le attività in Africa di Mario Pavan e dell'Istituto di Entomologia dell'Università di Pavia. Natura - Soc. it. Sci. nat. Museo civ. Stor. nat. Milano, 103 (1): 199-210.


Favali P., Francesco Chierici, Giuditta Marinaro, Gabriele Giovanetti, Adriano Azzarone, Laura Beranzoli, Angelo De Santis, Davide Embriaco, Stephen Monna, Nadia Lo Bue, Tiziana Sgroi, Gianfranco Cianchini, Lucio Badiali, Member, IEEE, Enkelejda Qamili, Maria Grazia De Caro, Giuseppe Falcone, Caterina Montuori, Francesco Frugoni, , Giorgio Riccobene, Mario Sedita, Giovanni Barbagallo, Giorgio Cacopardo, Claudio Calì, Rosanna Cocimano, Rosa Coniglione, Michele Costa, Antonio D'Amico, Francesco Del Tevere, Carla Distefano, Francesco Ferrera, Valentina Giordano, Massimo Imbesi, Dario Lattuada, Emilio Migneco, Mario Musumeci, Angelo Orlando, Riccardo Papaleo, Paolo Piattelli, Guido Raia, Alberto Rovelli, Piera Sapienza, Fabrizio Speziale, Agata Trovato, Salvatore Viola, Fabrizio Ameli, Maurizio Bonori, Antonio Capone, Rocco Masullo, Francesco Simeone, Luca Pignagnoli, Nevio Zitellini, Federico Bruni, Francesco Gasparoni, and Gianni Pavan, 2013. NEMO-SN1 Abyssal Cabled Observatory in the Western Ionian Sea. IEEE JOURNAL OF OCEANIC ENGINEERING.





New software:
Ultrasonic audio router and recorder

Audiogem è un software per ambiente Windows nato per l'acquisizione, la registrazione e la distribuzione in rete locale e di flussi audio fino alle frequenze ultrasoniche. Compatibilità con schede WDM, ASIO e NI-DAQ.

AUDIOGEM è un prodotto Novagem Solutions sviluppato per un mercato di nicchia e poi divenuto un software custom utilizzato in alcuni ambiti della ricerca scientifica per il monitoraggio ambientale. La sua particolarità principale è quella di fungere da convogliatore e smistatore digitale dei flussi audio potendo egli gestire un elevato numero di sorgenti e destinazioni.



http://www.novagemsolutions.com/it-it/businesscase/ultrasonicaudiorouterandrecorder.aspx


September


CIBRA participates to the Symposium "Biodiversity Technologies" held by the Biodiversity Institute, University of Oxford, UK, 27-28 September 2012, with an invited lecture on soundscapes.


Download the poster of the symposium
Download the CIBRA presentation


Summary video


July



We are glad to announce an international workshop organized by CIBRA will be held in Erice, Sicily, in October 2013. Details will come soon on a dedicated webpage.



Ettore Majorana Foundation and Centre for Scientific Culture (Erice, Sicily, Italy)
International School of Ethology

Directors of the School: Prof. Danilo Mainardi, Prof. Stefano Parmigiani

October 18-21, 2013
Cetacean echolocation and outer space neutrinos: ethology and physics for an interdisciplinary approach to underwater bioacoustics and astrophysical particles detection


Directors of the workshop
Gianni Pavan (Centro Interdisciplinare di Bioacustica e Ricerche Ambientali, University of Pavia, Italy)
Peter Tyack (Sea Mammal Research Unit, University of St Andrews, Scotland, UK)
Giorgio Riccobene (INFN-LNS, Catania, Italy)
William A. Barletta (US Particle Accelerator School; Dept. of Physics, MIT, Cambridge, MA, US)

June


January
2011
December


November


September


July
June
May

March


2010
December

September






August

The EDA-POMM Project (European Defence Agency - Protection of Marine Mammals) has been approved and now starts. Main aims of the project is to develop a common database platform and specific acoustic devices to protect marine mammals against sonar operations. Italy is represented by Italian Navy and CIBRA.

Three great videos have been published on http://www.natochannel.tv about the research cruise SIRENA 2010: to find them

type "marine mammals" in the search box

. You can also download them.


July

May

April


March

The final research report on the Research Cruise MED09 is available at: http://www.whoi.edu/page.do?pid=33519
Please click on the above link and find the report listed on the right hand side under Related Files.
2009
December

A paper on the CIBRA activities within the INFN NEMO-ONDE Project entitled "The neutrino and the whale" has been published on Nature n 462, December 3rd, 2009.

Nature: http://www.nature.com/news/2009/091202/full/462560a.html
write to gianni.pavan@unipv.it to get a copy of the article.

PhysicsToday: http://blogs.physicstoday.org/newspicks/2009/12/the-neutrino-and-the-whale.html

Comunicato ANSA: http://www.ansa.it/ambiente/notizie/notiziari/natura/20091222192035001690.html

Science 2007: http://www.sciencemag.org/cgi/content/summary/315/5816/1199d

September


4th International Workshop on Detection, Classification and Localization of Marine Mammals Using Passive Acoustics
1st International Workshop on Density Estimation of Marine Mammals Using Passive Acoustics
Cairoli College, University of Pavia, Italy
September 2009, 10th - 13th
---

The MED09, a 5 weeks research cruise on the NRV Alliance, was very successfull for the CIBRA team who was able to detect and track several Cuvier's beaked whales. The CIBRA system, based on two arrays of hydrophones towed in parallel and a sophisticate software, allowed researchers to track the underwater movements of whales diving 500 to 2000 meters deep and to predict their emersion time and location with high precision. Another goal was the real-time integration of acoustic and visual detections into a GIS to follow both diving and surfacing animals.
Preliminary results have been presented to the
3rd Intergovernmental Conference: The Effects of Sound in the Ocean on Marine Mammals
organized by NURC in Lerici, September 7th - 9th,
and to the "ONR PI Meeting" in Alexandria (US), December 7th - 10th.

July & August

CIBRA researchers and collaborators build two new towed arrays and start developing new underwater recording systems to be used for monitoring endangered marine mammals species. The new equipment will be tested at sea in the incominc MED09 cruise in the Western Mediterranean Sea.

May
The US Office of Naval Research provides financial and scientific sponsorship to the DCL & DE workshops being organized by CIBRA (September 2011).
Scientfic sponsorship is also given by NURC and ACCOBAMS.

Two important books on underwater bioacoustics recently published:
WEBB J.F., POPPER A.N., FAY R.R., 2008. Fish Bioacoustics. Springer: 1-319.
AU W.W.L., HASTINGS M.C., 2008. Principles of Marine Bioacoustics. Springer: 1-679.
for other books jump here: http:www.unipv.it/cibra/edu_book_uk.html
The Second International Conference on the Effects of Noise on Aquatic Life will take place in Ireland in August 2010. The main emphasis of the conference will be on defining the current state of knowledge and to assess progress in the three years since the First conference. The Second conference will place strong emphasis on recent research results, the sharing of ideas, discussion of experimental approaches, and analysis of regulatory issues.
The premise of these meetings is that sound is important for many aquatic organisms, including marine mammals, fish, and some invertebrates. Sound is used for communicating, navigating, seeking out prey and avoiding predators. Hearing is an everyday sense, detecting the many changes that are taking place around the animal. The goal of the conference is to draw together new knowledge on the importance of underwater sound to animals and to the effects of sounds upon them, whether those sounds occur naturally, are made by the animals themselves, or result from human activities.
A wide range of sources of underwater sound will be considered at the conference, including those generated by explosions, ships, seismic exploration, offshore construction, sonars of various types, acoustic deterrent devices and of course sounds made by aquatic animals themselves.
More information here: http://aquaticnoise.umd.edu/

April
April 23, 15:00 - Dipartimento di Biologia Animale, Piazza Botta 10
Workshop organizzato da CIBRA e Tethys
I CETACEI DEL MEDITERRANEO
ricerca e conservazione
Alla scoperta delle balene e dei delfini del Mar Mediterraneo:
l'esperienza di chi li studia da vicino
2nd announcement of the 4th International Workshop on Detection, Classification and Localization of Marine Mammals using Passive Acoustics & 1st International Workshop on Density Estimation of Marine Mammals using Passive Acoustics (University of Pavia, September 10-13, 2009).
The workshops will be sponsored by US Office of Naval Research.
CIBRA participates to BRS09 and MED09 meetings held at NURC, La Spezia, to discuss about Behavioural Response Studies and the organization of the research cruise MED 09. CIBRA participates to the cruise with two researchers and the equipment developed for mapping the presence of marine mammals and Cuvier's beaked whales by detecting their acoustic signals. The equipment was successfully used in the NURC cruise SIRENA 08 to map the presence of Cuvier's beaked whales in the Alboran Sea. For MED 09 a second wideband towed array will be built to allow the towing of two arrays in parallel to improve detection and localization capabilities.
Participation to MED 09 will be granted by the US Office of Naval Research.
February
XXII IBAC Conference
14-18 September, 2009
Lisbon, Portugal
The 22th International Conference of the International Bioacoustics
Council (IBAC) will be held from 14-18 September 2009 at Calouste
Gulbenkian Foundation in Lisbon, Portugal.
Please visit the conference website at http://www.ibac.info/xxii_lisboa/
The Strandings DataBase has been further improved with a bibliographic archive and a image gallery. Contents of the two new archives are linked to recorded strandings.
L'inizio del corso di "Bioacustica terrestre e marina" è stato fissato per il giorno 3 Marzo.
January
CIBRA has been invited to take part to the MED 09 cruise to study Cuvier's beaked whales in the Mediterranean and to support WHOI's behavioural response tests to study beaked whales reactions to sound exposure.
CIBRA has been invited to participate to an EDIT workshop in the Canary Island and to contribute to the production on a comprehensive manual on the field techniques that can be used to inventory and monitor the biodiversity of natural habitats.
2008
December
Since the mid of December the Strandings DataBase can be accessed either in Italian or English.
October
International Conference Passive 08, NURC & CIBRA present a talk on the acoustic detection and classification of the Cuvier's beaked whale Ziphius cavirostris. The presentation is based on the excellent results obtained in the Alboran Sea (Sirena 08) by using CIBRA equipment.
September
CIBRA contributes to the EDIT Summer School 2008: 'Modern Taxonomy and Field Work' with field lessons and exercises on bioacoustic recording techniques.
CIBRA organizes an important event to be held in September 2009: two joint workshops on the use of Passive Acoustics to detect marine mammals and map their distribution and density.
4th International Workshop on Detection, Classification and Localization of Marine Mammals using Passive Acoustics & 1st International Workshop on Density Estimation of Marine Mammals using Passive Acoustics University of Pavia, September 10-13, 2009
The workshops will include DECAF meeting, restricted to people directing the DECAF (Density Estimation for Cetaceans from Passive Acoustic Fixed Sensors) Project coordinated by StAndrews University (UK).

June
CIBRA successfully participated to SIRENA '08, a research cruises organized by NURC onboard the NRV Alliance. The goal of the cruise was to perform a 'state of the art' visual and acoustic survey in the Alboran Sea to map the presence of marine mammals and to develop a model to correlate their distribution with environmental and oceanographical parameters. The survey covered the area four times in 20 days to study the coherence of the resulting data. In the latest section of the cruise was devoted to tagging Cuivier's beaked whales with the WHOI Team. In the cruise three different acoustic detection systems have been tested and compared. One of these was the CIBRA array that successfully allowed to detect Cuvier's beaked whales and map their presence around the Isle of Alboran.
May
Si è tenuto a Olbia il 9 e 10 Maggio 2008 il 1° Corso Regionale dedicato al tema degli spiaggiamenti dei Cetacei. Il Corso dal titolo "Gli Spiaggiamenti dei Cetacei, protocolli d'intervento" è promosso dall'Assessorato Difesa Ambiente della Regione Sardegna, dalla Rete Regionale per la Conservazione della Fauna Marina, dalla Provincia di Olbia Tempio (Settore Ambiente), dall'Area Marina Protetta di Tavolara Punta Coda Cavallo e dal CRiMM onlus (Centro Ricerca Mammiferi Marini), con il patrocinio del Comune di Olbia e la collaborazione del CIBRA e della Banca Dati Spiaggiamenti.
Comunicato stampa (pdf) - Programma (pdf)
April
CIBRA signed a Memorandum of Understanding to setup a 5 year cooperation program with NURC.
La Banca Dati Spiaggiamenti e le attività di coordinamento ad essa correlati sono state presentati al workshop "L'Italia nell'ambito degli accordi Pelagos e ACCOBAMS: stato dell'arte delle attività di ricerca e definizione degli indirizzi" (Roma 9-10 Aprile 2008) organizzato dall'ICRAM e dal Ministero dell'Ambiente e della Tutela del Territorio e del Mare.
January
January: The National Marine Mammals' Strandings Database in now online at the pages
http://www.unipv.it/cibra/spiaggiamenti.html
http://mammiferimarini.unipv.it

The database is the result of a project granted by the Italian Ministry of the Environment; the project is aimed at developing an efficient stranding network and the connections with the institutions interested in studying and monitoring the marine environment.
2007
October
A temporary exhibit (October-December 2007) at the University of Pavia illustrates the studies carried out by the zoologist Pietro Pavesi who teached at the University of Pavia at the end of XIX century. A multimedial exhibit allows to listen to the sounds of birds living in the area when Pavesi teached in Pavia as well as to today's species and soundscapes.
A guide to the soundscapes of the "Foresta Regionale Valsolda" has been published with a CD companion. It is distributed by ERSAF.
July
it is now online the website of the ornithological trail "Walter Corti" ( http://www.sentierocorti.it ). The website illustrates the trail, the habitats, and the species that can be heard with their sound recordings and spectrograms. The trail has been set within the frame of the "Soundscapes Project", that includes educational trails

to discover natural habitats and their voices.
February
On February 23, 11 AM, Prof. A.H.Bass from Cornell University presented a lecture on the neurobiology of acoustic communication in teleost fishes. The lecture, organized by CIBRA and by the Dept. of Animal Biology, has been held in one of the historical lecture halls of Palazzo Botta.
The preliminary results of the INFN NEMO ONDE Project have had a large diffusion on both the national and the international press.
January
Along with the XXI IBAC Congress CIBRA will organize the "2nd European workshop on animal sound research and libraries". The workshop will take place during the IBAC Congress.
A special edition of the CD on Marine mammals of the Mediterranean and Black Sea has been requested by ACCOBAMS: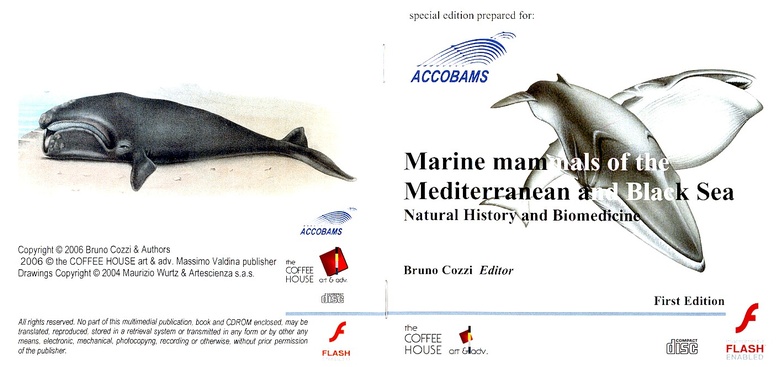 2006
December:
The XXI IBAC Congress will be organized by CIBRA and it will be hosted in the historical buildings of the University of Pavia, September 15th to 18th, 2007.
The NEMO-ONDE underwater acoustic platform has been switched off to be replaced by another NEMO experiment. In two years of activity the ONDE experiments generated about two TB of acoustic data that document, for the first time, the frequent presence of sperm whales on the east coast of Sicily. Other than for the biological results the experiment was a success for the technologies entirely designed and built at INFN and for the software developed at CIBRA. Data processing is being completed for year 2005. Analysis of data gathered in 2006 will begin shortly.
November:
CIBRA has been invited to attend the 4th meeting of the ACCOBAMS Scientific Committee to present the document "Guidelines to address the issue of the impact of anthropogenic noise on marine mammals in the ACCOBAMS area." prepared by Gianni Pavan for the ACCOBAMS Secretariat. The document has been accepted with no reserves and a strong set of recommendations has been produced.
CIBRA has been invited to present a talk on the impact on noise on marine mammals at the next UDT (Underwater Defence Technologies) Conference to be held in Napoli, June 2007.
October:
CIBRA participated to the "1st European workshop on animal sound research and libraries", hosted by the Fonoteca Zoologica, Madrid 27-30 September 2006, within the activities of EDIT Workpackage 4. Researchers working with bioacoustic collections agreed to create the "European Network of Bioacoustic Collections for Taxonomy and Conservation".
May:
CIBRA participates to the Scientific Committee of the 58° IWC meeting.Gianni Pavan has been designated as a member of the Italian delegation and he presented three papers on CIBRA activities at the Seismic Workshop.
E' stato finalmente istituito il corso di "Bioacustica terrestre e marina" nell'ambito del Corso di Laurea in Scienze della Natura. Il corso, facoltativo nell' a.a. 2006-2007 quotato 4 crediti, verrà molto probabilmente convertito in obbligatorio con 6 crediti nel successivo a.a.
March:
CIBRA and Parco Pineta di Appiano Gentile e Tradate have signed an agreement to cooperate for the study and valorization of natural soundscapes even in those areas where the human presence and noises can be heard. The agreement includes the realization of a bioacoustic section, entitled "The voices of Nature" at the Natural History Museum "Antonio Stoppani" in Venegono (CO).
On March 26th a naturalistic trail named "Il sentiero delle Uccellande" was opened to the public. A CD Audio with sound recordings of the species and of the soundscapes of the "Parco Pineta" was also presented. It was made by Guido Pinoli and Gianni Pavan for the Parco Pineta. It is available for 10€ by writing to gianni.pavan@unipv.it
February:
CIBRA has been desigated to participate to the 58° IWC meeting as a member of the Italian Scientific Delegation with the purpose of discussing about the impact of anthropogenic noise on marine mammals and the mitigation rules to be adopetd to preserve the marine fauna.
2005
December:
16th SMM Biennial Conference on the Biology of Marine Mammals
San Diego, California, USA: 12-16 December
November:
2nd International Workshop on Detection and Localization of Marine Mammals using Passive Acoustics
Oceanographic Museum, Principato di Monaco: 16-18 November
Convegno Nazionale del Centro Studi Cetacei
Sperlonga, Italia: 25-27 November
October: the CDROM on marine mammals of the Mediterranean Sea, edited by Bruno Cozzi (Univ. di Padova) and coauthored by many italian scientist, has been published. It is in Italian, but the english version is in development. The CDROM includes photographs, videos and a chapter on marine mammals' acoustics with sound files and spectrograms. It also include a comprehensive list of italian institutions, scientists and scientific literature concerned with marine mammals.
It is now distributed in the main book shops and it will available for online shopping soon. In the meanwhile orders can be sent to the Publisher massimo.valdina@libero.it . In Pavia it can be purchased at the blook shop Libreria CLU,Via San Fermo 3.
September: CIBRA participates in the Ziphius '05 sea trial organized by NURC in the Ligurian Sea to investigate on the Ziphius cavirostris behaviour and habitat. CIBRA researcher were on the Krill, a katamaran, to perform an acoustic survey with their equipment and also to support visual observations.
The XX IBAC conference has been held in Pirano, Slovenia: 15-19 September.
The next IBAC conference will be organized by CIBRA at the University of Pavia, Italy, early September 2007.
May: CIBRA participates in the CEDAR research cruise on the RV Endeavor. The cruise, in the Mediterranean Sea, is aimed at testing new radar processing algorithms to detect and track marine mammals at the surface.
January: The NEMO deep water acoustic station has been successfully deployed 25 km off Catania on January 22th; since then it transmits broadband acoustic data to the INFN labs in Catania. CIBRA participated in the design of the acoustic equipment and analyses received data.
2004
INTERNATIONAL WHALING COMMISSION, Sorrento, Italy: luglio 2004
Dr Gianni Pavan, representing the CIBRA, participates to the IWC meeting as a member of the Italian Delegation

2003
The abstracts of the XVII IBAC meeting have been published on Bioacoustics Volume 13 No 1 (2002) : 77-102. The abstracts of the XVIII meeting, held in Cogne (Italy) in September 2001, are published on Volume 13 No 2: 175-207.
The next IBAC conference will take place in Brasil, August 10-15, 2003.
On day November 30th, the Annual General Meeting of the Centro Studi Cetacei (CSC) will be held in Rome at the Civic Museum of Zoology.
Convegno MARE E SALUTE - Pavia, 21 novembre 2003
Organizzato dalla Sezione di Pavia della Lega Navale Italiana presso l'Università di Pavia, Sede Centrale
The Acoustical Society of America (ASA) organizes the "1st Conference on Acoustic Communication by Animals". The conference will be held at the University of Maryland College Park (USA), July 27-30, 2003.
2002
The education and training program for year 2002 is now available. It includes the workshop "Cetacean Research and Conservation in the Ionian Sea", Sicily, September 8th-16th, 2002
CIBRA and CSC successfully participated to the SIRENA 02 cruise organized by Saclant Undersea Research Center within the SOLMAR Research Program.
The "5° National Conference on marine mammals and turtles" will be held in Tuscany, December 6th to 9th, 2001, in one of the villages of Monte Argentario (GR). It is organized by the Centro Studi Cetacei (CSC), the organization which manages the Italian National Stranding Network. Further information, abstract submission and subscription forms will be available in .pdf format on the CSC web site http://www.centrostudicetacei.org

CIBRA supports Zoönomia's Zanzibar Cetacean Conservation Project for the season 2001 by providing technical equipment as well as expertise, in order to carry out acoustic surveys and recordings on cetaceans ranging in the Archipelago of Zanzibar, Tanzania. The project started in 1999 and mainly focuses on the ecology of the Indian Ocean humpback dolphin (Sousa plumbea). Downloadable papers on previous years' results are available at http://web.tiscali.it/zoonomia/bibliografia/index01.htm. Further info are available on the Zoönomia web site.
---

CIBRA Home Page
---